Are you looking for a stylish accessory to complete your running outfit? Look no further than our fantastic collection of pet cowboy hats! These adorable accessories are not only fashionable, but they also glow in the dark, making your nighttime runs even more exciting. So, lace up your sneakers, grab your furry friend, and get ready to turn heads on your glowing run with our pet cowboy hats!
Finding the Perfect Cowboy Hat for Your Pet's Glowing Run
When it comes to finding the perfect cowboy hat for your pet's glowing run, there are a few factors to consider. Firstly, make sure the hat is the right size and comfortable for your pet. Look for a hat made of durable materials that can withstand active play sessions. Additionally, consider the design and style of the hat to match your pet's personality. Whether you're going for a classic cowboy look or a more playful and colorful design, finding a hat that suits your pet's style will make their glowing run even more enjoyable.
Mini NC Hat
Step-by-Step Guide: How to Choose the Right Cowboy Hat for Your Pet
Choosing the right cowboy hat for your pet can be a fun and stylish way to dress them up! First, measure the circumference of your pet's head to ensure proper fit. Consider the material of the hat, such as straw or felt, based on the weather and occasion. Next, choose a hat that matches your pet's personality and style, whether it's a classic black or a colorful pattern. Lastly, make sure the hat is comfortable and secure on your pet's head before heading out for some fashionable adventures together.
The Benefits of Using a Cowboy Hat for Your Pet's Nighttime Run
Neon Cowboys® Hat
Using a cowboy hat for your pet's nighttime run has several benefits. Firstly, it provides protection from the harsh elements such as rain or snow, ensuring that your furry friend stays dry and comfortable during their exercise. Additionally, the wide brim of the hat helps shield their eyes from any bright lights, reducing the risk of eye strain or discomfort. Moreover, the hat adds a touch of style to your pet's outfit, making them the center of attention during their evening stroll. Overall, using a cowboy hat for your pet's nighttime run not only enhances their safety but also adds a fun and fashionable aspect to their exercise routine.
Tips and Tricks for Maintaining Your Pet's Cowboy Hat's Glow
LED Starlight Projectors for Roller Skates
Maintaining your pet's cowboy hat's glow can be a challenging task, but with some helpful tips and tricks, it can be easily achieved. Firstly, always remember to dust off the hat regularly to keep it looking fresh and clean. Use a soft cloth or brush to gently remove any dirt or debris. Additionally, if your pet's hat is made of felt, you can use a steamer to reshape it and restore its glow. Lastly, store the hat in a cool and dry place to prevent any damage or fading. By following these simple tips, your pet's cowboy hat will shine brightly for years to come.
Enhance Your Pet's Style with a Customized Glowing Cowboy Hat
Out Past Midnight Boots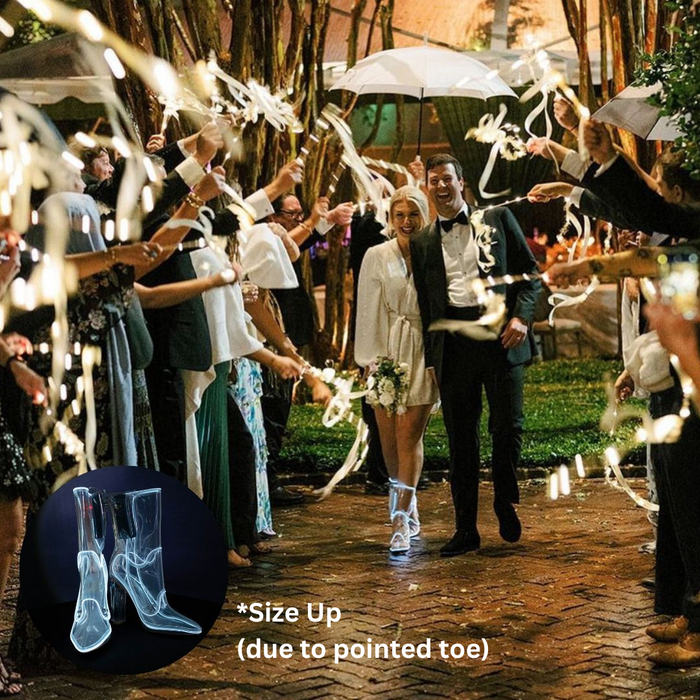 Give your pet's style a boost with a customized glowing cowboy hat. Not only will your furry friend look adorable, but they'll stand out in any crowd. This one-of-a-kind accessory is perfect for special occasions or just to add some extra flair to your pet's everyday look. With its glowing feature, your pet will surely steal the spotlight wherever you go. So why wait? Give your pet the opportunity to shine with a personalized glowing cowboy hat that is sure to make heads turn.
Top 5 Glowing Cowboy Hat Designs for Pets
If you're looking to make a fashion statement for your furry friend, here are the top 5 glowing cowboy hat designs for pets. These hats not only add a touch of style, but they also provide safety during nighttime walks or outdoor adventures. The first design features colorful LED lights on the rim, while the second has a built-in reflective strip for enhanced visibility. The third design boasts a glowing star pattern, perfect for your little superstar. The fourth design takes it up a notch with a remote-controlled light-up feature, allowing you to customize the color and patterns. Lastly, the fifth design combines a traditional cowboy hat silhouette with neon lights, making your pet the ultimate trendsetter.
Conclusion
In conclusion, don't miss out on the opportunity to add a stylish and fun element to your runs with a pet cowboy hat. Not only will it make you and your pet stand out, but it will also provide added visibility and safety during nighttime runs. So, grab your pet cowboy hat and get ready for a glowing run that you and your four-legged friend will both enjoy!
1. How does the glowing effect work?
The hat is embedded with LED lights that illuminate when turned on.
2. How long does the battery last?
The battery can last up to 10 hours with continuous use.
3. Is the hat adjustable for different sizes?
Yes, the hat comes with an adjustable strap that can fit various head sizes.
4. Can the hat be worn in the rain?
No, the hat is not waterproof and should be kept away from moisture.
5. Can I customize the design of the hat?
Yes, you can choose from a variety of colors and patterns to create a unique design.
6. Is the hat suitable for all pets?
The hat is designed to fit dogs and cats of various sizes, but it may not be suitable for smaller or larger pets.