Are you ready to party and dance the night away? Well, get your pet ready too because we have the perfect accessory for them - a hilarious cowboy hat! Whether you're hitting the disco or just having a good old-fashioned boot-scootin' time, your furry friend will be the life of the party in this stylish and funny outfit. So saddle up and grab your pet's new favorite accessory because it's time to boogie down in style!
"Why Every Pet Needs a Hilarious Cowboy Hat for Disco Nights"
Every pet deserves to have some fun and look stylish, which is why a hilarious cowboy hat is a must-have for disco nights. Pets bring so much joy to our lives, and it's only fair that we return the favor by making them the life of the party. A cowboy hat adds a dash of whimsy to their already adorable demeanor, making them even more entertaining to watch as they strut their stuff on the dance floor. Whether it's a dog, cat, or even a guinea pig, a cowboy hat instantly transforms them into the coolest pet in town. So let's not deprive our furry friends of the fabulousness that a disco night with a hilarious cowboy hat can offer.
Mini NC Hat
"Choosing the Perfect Cowboy Hat for Your Pet's Boot-Scooting Adventure"
If you're looking to add some flair to your pet's boot-scooting adventure, then choosing the perfect cowboy hat is a must. Whether you have a dog, cat, or even a guinea pig, there are options for every furry friend. Consider the size and style that suits your pet's personality. From classic Stetsons to flashy rhinestone-covered hats, the possibilities are endless. Not only will your pet look adorable, but they'll also be the talk of the town with their stylish headgear. So saddle up and get ready for a wild and fashionable ride!
"Step-by-Step Guide: Dressing Your Pet in a Hilarious Cowboy Hat"
Neon Cowboys® Hat
Putting a cowboy hat on your pet may seem like a daunting task, but with this step-by-step guide, it can become a hilarious and enjoyable experience. Firstly, start by choosing the right size cowboy hat that will fit your pet comfortably. Next, gently introduce the hat to your pet, allowing them to sniff and explore it. Encourage them with treats and praise as you slowly place the hat on their head. Adjust the hat to ensure it sits securely and doesn't obstruct their vision or movement. Finally, capture the priceless moment and share the laughter with your friends and family.
"Making Your Pet the Star of the Dance Floor: Styling Tips for Disco Nights"
LED Starlight Projectors for Roller Skates
If you want to make your pet the star of the dance floor during disco nights, follow these styling tips. First, consider a funky outfit that reflects the era with bright colors and patterns. A mini disco ball collar or leash can also add some extra flair. Don't forget the accessories - sunglasses, headbands, and bandanas are all great options. Finally, make sure your pet is comfortable and can move freely in their outfit. With these tips, your furry friend will be ready to boogie the night away.
"Safety First! Ensuring Comfort and Safety with a Cowboy Hat for Your Pet"
Out Past Midnight Boots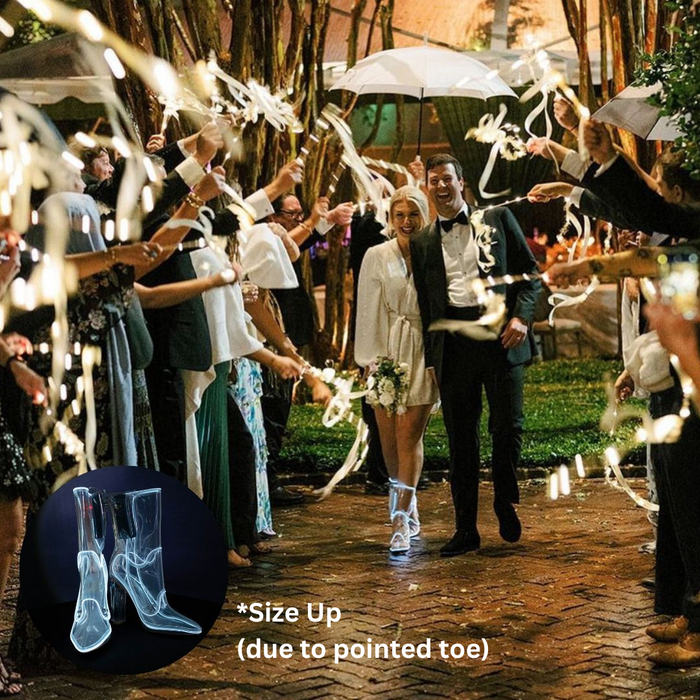 Keep your furry friend safe and stylish with a cowboy hat designed specifically for pets. Our hats prioritize safety and comfort, allowing your pet to rock the Wild West look without any discomfort. The adjustable strap ensures a secure fit, preventing the hat from falling off during playtime. With its durable construction and quality materials, this cowboy hat provides both protection and style for your beloved pet. So, why compromise on safety when you and your pet can have the best of both worlds? Safeguard your pet's eyes and ears with a trendy cowboy hat today.
"Creating Lasting Memories: Capturing the Fun with Your Pet's Disco-Ready Cowboy Hat"
Looking to capture the fun moments with your furry friend? Our Disco-Ready Cowboy Hat is the perfect accessory to create lasting memories. With its vibrant colors and sparkly design, your pet will be the life of the party. Whether you're going on a hike or having a backyard BBQ, this hat will add a touch of whimsy and style to any occasion. So grab your camera and get ready to create some unforgettable moments with your beloved pet.
Conclusion
In conclusion, preparing your pet for disco nights with a hilarious cowboy hat will surely add a fun and entertaining touch to the festivities. Your pet will undoubtedly stand out and bring joy to everyone around. So, don't miss out on the chance to make your pet the life of the party and create lasting memories together.
FAQs - Cowboy Hat for Your Pet
Frequently Asked Questions
1. Can I leave a cowboy hat on my pet unsupervised?
No, it is recommended not to leave a cowboy hat on your pet unsupervised as it may cause discomfort or pose safety risks.
2. How do I measure my pet's head for a cowboy hat?
To measure your pet's head for a cowboy hat, use a flexible tape measure to measure the circumference of their head just above the ears.
3. Are cowboy hats safe for all pet breeds and sizes?
Cowboy hats can be safe for most pet breeds and sizes, but it is important to choose the right size and ensure it fits securely without obstructing their vision or breathing.
4. How do I clean a cowboy hat for my pet?
Most cowboy hats for pets can be cleaned with a damp cloth or sponge. Avoid using harsh chemicals and make sure to air dry the hat thoroughly before putting it back on your pet.
5. Can I customize a cowboy hat for my pet with additional accessories?
Yes, you can customize a cowboy hat for your pet with additional accessories, such as feathers or decorative bands. However, always ensure that the added accessories do not pose any risks to your pet's safety.
6. How long can my pet wear a cowboy hat comfortably?
The duration your pet can comfortably wear a cowboy hat may vary. It is advisable to monitor your pet for any signs of discomfort and remove the hat if they display any signs of distress.