Are you looking to create the ultimate dog party experience for your furry friends? Look no further! This guide will provide you with all the information you need to throw an unforgettable dog party. From live DJ events to cowboy hat dress-ups, we have got you covered! So let's get started and make your pup's party a woof-tastic event!
Planning the Perfect Dog Party: Tips and Ideas for a Paw-some Celebration
Are you thinking about throwing a dog party? Look no further for tips and ideas to make it a paw-some celebration! First, choose a theme that suits your furry friend's personality, such as a beach party or a superhero theme. Set a date and send out adorable invitations to your dog's pals. Don't forget to plan fun activities like a doggy obstacle course or a game of fetch. Provide plenty of treats and dog-friendly snacks, and maybe even a special doggy birthday cake! Lastly, make sure to capture the memories with lots of photos and maybe even a doggy party favor for each guest. Get ready for a bark-tastic time!
Mini NC Hat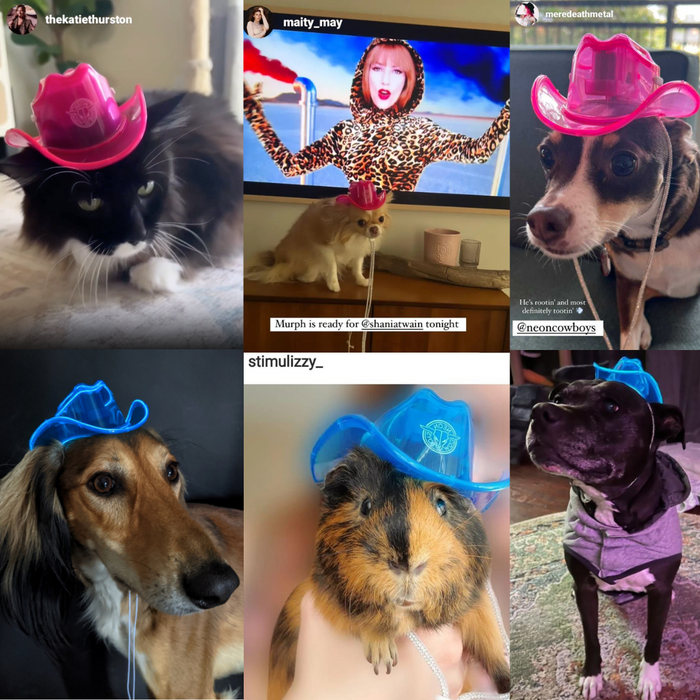 Bringing the Bark to Life: Organizing Live DJ Events for your Furry Guests
Are you tired of the same old doggy play dates at the park? Spice up your pup's social life by organizing live DJ events for furry guests! Imagine the excitement on their faces as they wag their tails to the beat of the music. These events not only provide a fun and unique experience for your four-legged friends, but also give you the opportunity to meet fellow pet owners and network with local businesses. So why wait? Get on the dance floor with your furry companion and bring the bark to life at our next live DJ event!
Tail-Wagging Fashion: How to Incorporate Cowboy Hats into Your Dog Party Theme
Neon Cowboys® Hat
Looking to add a fun and unique twist to your next dog party theme? Why not incorporate cowboy hats into the mix? Whether you're hosting a Western-themed event or simply want to add a touch of whimsy, dressing up your furry friends in cowboy hats is sure to bring a smile to everyone's faces. From mini-sized hats for small breeds to larger ones for bigger dogs, there are options available for every size and style. So, gather your four-legged friends, don your own cowboy hat, and get ready for a tail-wagging good time at your next dog party. Yeehaw!
A Treat for Their Taste Buds: Creating a Menu that Will Make Dogs Drool
LED Starlight Projectors for Roller Skates
Looking to spoil your four-legged friend with a delicious meal? Look no further than our mouthwatering menu designed to make dogs drool. From savory steak bites to fluffy pancakes topped with bacon, we've got it all. Our team of expert chefs ensures that each and every item is made with the highest quality ingredients, perfect for satisfying even the pickiest of eaters. Whether your pup prefers a classic grilled chicken or a gourmet seafood platter, our menu is sure to make their taste buds explode with delight. Treat your furry companion to a dining experience they won't soon forget.
Safety First: Ensuring a Secure and Happy Environment for Your Furry Partygoers
Out Past Midnight Boots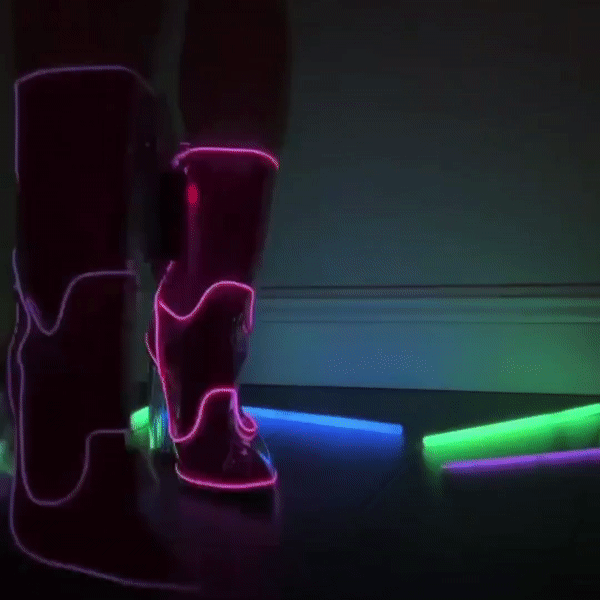 Make sure your furry friends have a safe and enjoyable time at their party by prioritizing their security. Provide a secure and fenced-in area where they can play and socialize without the risk of running off. Keep harmful substances, such as cleaning products and toxic plants, out of reach. Ensure all guests are aware of any potential allergies or sensitivities and ask them to refrain from bringing any hazardous items. By taking these precautions, you can create a secure and happy environment for your furry partygoers.
Paw-ty Favors: Unique Ideas to Delight Your Dog Guests and Their Humans
Are you throwing a party for your furry friends? Look no further for the perfect paw-ty favors! We have unique ideas that will delight both the dogs and their humans. From personalized dog treats to adorable customized bandanas, we have something for every pet lover. These thoughtful favors will not only make your pup feel special, but they will also leave a lasting impression on your human guests. So get ready to celebrate in style and make this paw-ty one to remember!
Conclusion
In conclusion, throwing the ultimate dog party with live DJ events and cowboy hats can be an incredibly fun and memorable experience for both dogs and their owners. It provides a unique opportunity for dogs to socialize and enjoy live music while dressed in adorable cowboy hats. With careful planning and consideration for the dogs' comfort and safety, this type of event can create a joyful and festive atmosphere that everyone will remember for years to come. So gather your furry friends, put on your cowboy hats, and let the ultimate dog party begin!
FAQs:
1. How can I ensure the safety of my furry partygoers?
To ensure the safety of your furry partygoers, make sure to scan the party area for any potential hazards, such as loose wires or toxic plants, and remove them. Also, provide a designated safe space where the animals can retreat if they feel overwhelmed.
2. What precautions should I take for food and drinks?
When it comes to food and drinks, avoid serving anything that is toxic to animals, such as chocolate or alcohol. Make sure to keep the food and drinks stored in a secure location, out of reach from curious pets.
3. How can I prevent fights or aggressive behavior between the furry partygoers?
To prevent fights or aggressive behavior between furry partygoers, it is important to introduce them gradually and provide ample space for each animal. Keep an eye on their body language and intervene if any signs of tension or aggression arise.
4. Are there any special considerations for outdoor parties?
For outdoor parties, ensure that the party area is securely fenced to prevent any escapes. Provide shaded areas and fresh water for the animals to keep them comfortable. Additionally, check the weather forecast and reschedule if extreme conditions are expected.
5. What should I do in case of emergencies?
In case of emergencies, have a first aid kit readily available and ensure you have the contact information for a nearby veterinarian. It is also a good idea to know the location of the closest 24-hour animal hospital.
6. Are there any specific considerations for different types of furry partygoers?
Yes, different types of furry partygoers may have specific needs. For example, elderly animals may require a quieter environment, while young puppies or kittens may need frequent breaks and supervised playtime. Tailor the party experience according to the individual needs of your guests.