Looking for the perfect accessory to complete your pet's outfit for barnyard parties and community gatherings? Look no further than cowboy hats! These stylish and fun accessories will surely make your pet stand out from the crowd. Whether you have a dog, cat, or even a miniature horse, cowboy hats are the perfect way to add a touch of western charm to any pet's ensemble. So why not dress up your furry friend and let them join in on the fun at your next barnyard party or community gathering?
Why Cowboy Hats are the Ultimate Pet Accessory for Barnyard Parties
Cowboy hats have become the ultimate pet accessory for barnyard parties due to their charming and playful nature. Not only do they add a touch of flair to any pet's appearance, but they also serve a practical purpose. These hats protect animals from the scorching sun and keep them cool, ensuring their comfort throughout outdoor festivities. Additionally, cowboy hats are a fun way to showcase a pet's personality and make them stand out in a crowd. So, if you're hosting a barnyard party, don't forget to dress your furry friend in a stylish cowboy hat for a truly memorable event.
Mini NC Hat
Top Reasons to Dress Your Pet in a Cowboy Hat for Community Gatherings
Dressing our pets in cowboy hats for community gatherings has become increasingly popular, and for good reason. Firstly, it adds a touch of humor and whimsy to any event, instantly putting a smile on people's faces. Secondly, it helps our pets stand out and become the center of attention, sparking conversations and bringing people together. Lastly, it allows us to showcase our pets' unique personalities and style, while also creating unforgettable memories. So the next time you attend a community gathering, don't forget to dress your pet in a cowboy hat and make a lasting impression.
How Cowboy Hats Can Add a Fun and Stylish Touch to Your Pet's Outfit
Neon Cowboys® Hat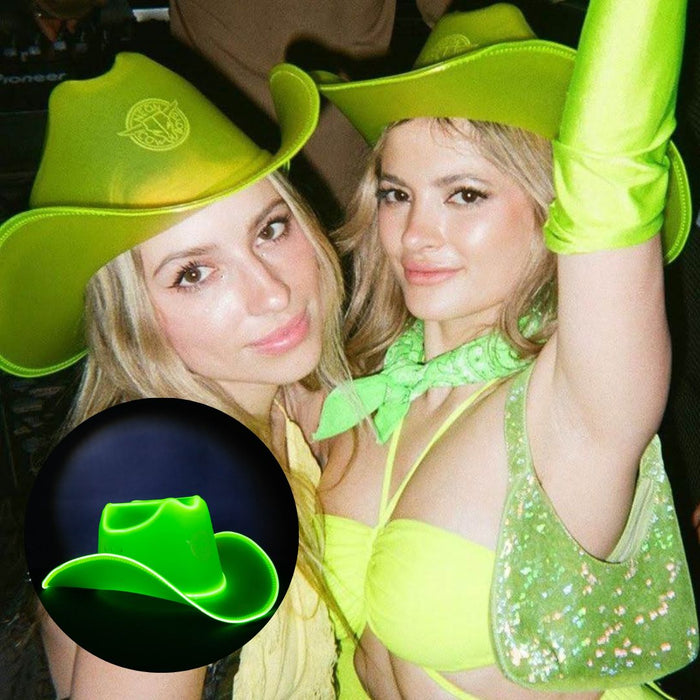 Adding a cowboy hat to your pet's outfit can be a fun and stylish way to accessorize them. Not only does it add a touch of whimsy to their appearance, but it also shows off their unique personality. Cowboy hats come in a variety of styles, colors, and sizes, making it easy to find the perfect one for your furry friend. Whether you're heading to a pet-friendly event or simply taking them for a walk around the neighborhood, a cowboy hat will make them stand out and create a memorable impression. So why not embrace the western-inspired trend and let your pet rock a cowboy hat?
Choosing the Right Cowboy Hat for Your Pet: Tips and Tricks
LED Starlight Projectors for Roller Skates
When it comes to choosing a cowboy hat for your pet, there are a few tips and tricks to keep in mind. Firstly, consider the size and shape of your pet's head to ensure a proper fit. Measure the circumference of their head and compare it to the size chart provided by the hat manufacturer. Additionally, consider the material and style of the hat. Ideally, opt for a sturdy and waterproof material to ensure durability. Finally, don't forget to take your pet's comfort into account and allow them to try on different options before making a final decision.
The Benefits of Dressing Your Pet in a Cowboy Hat for Socialization and Bonding
Out Past Midnight Boots
Dressing your pet in a cowboy hat may seem like a comical notion, but it can actually provide several benefits for both their socialization and bonding. Firstly, it helps your pet become more comfortable with different environments and situations. By exposing them to new experiences, such as wearing a hat, they learn to adapt and socialize with others in a positive way. Additionally, the act of dressing your pet in a hat can create a fun and unique bonding experience between you and your furry friend. It allows for playful interaction and strengthens the bond between you, resulting in a happier and more well-rounded pet.
Exploring the Trend: The Rising Popularity of Cowboy Hats as Pet Accessories
Cowboy hats are no longer just a fashion statement for humans, but also for pets. It is undeniable that the rising popularity of cowboy hats as pet accessories is a trend that has caught the attention of pet owners worldwide. From small dogs to cats and even rabbits, these adorable animals are donning their very own mini cowboy hats, making them Instagram-famous and capturing the hearts of many. This trend not only provides a fun and cute way to dress up our furry friends but also allows pet owners to showcase their creativity and sense of style. Whether it's for special occasions or just for everyday wear, cowboy hats have become a must-have accessory for pet lovers everywhere.
Conclusion
In conclusion, cowboy hats are the perfect pet accessory for barnyard parties and community gatherings. They not only add a touch of style and fun to your pets' wardrobe, but also bring a sense of unity and excitement to any event. Whether your pet is a horse, a dog, or a chicken, a cowboy hat is sure to make them stand out and bring smiles to everyone's faces. So why wait? Get your pet a cowboy hat and let the party begin!
FAQs
1. Why should I dress my pet in a cowboy hat?
Dressing your pet in a cowboy hat can be a fun way to enhance socialization and bonding. It can make your pet stand out and attract attention wherever you go.
2. Will dressing my pet in a cowboy hat make them uncomfortable?
Not necessarily. It is important to choose a hat that fits your pet properly and does not cause any discomfort. Most pets can adapt to wearing hats if introduced to them gradually.
3. Can dressing my pet in a cowboy hat help to socialize them?
Yes, dressing your pet in a cowboy hat can help to socialize them by creating opportunities for positive interactions with people and other pets. It can spark conversations and make your pet more approachable.
4. How can dressing my pet in a cowboy hat strengthen our bond?
Dressing your pet in a cowboy hat can create a unique bonding experience between you and your pet. It can be a form of shared fun and playfulness, which can enhance the bond and strengthen the relationship.
5. Are there any risks involved in dressing my pet in a cowboy hat?
While dressing your pet in a cowboy hat is generally safe, it is important to ensure that the hat does not obstruct their vision or restrict their movement. Always keep an eye on your pet and remove the hat if any signs of discomfort or distress occur.
6. Can dressing my pet in a cowboy hat cause any behavioral changes?
For most pets, dressing them in a cowboy hat is unlikely to cause any significant behavioral changes. However, it is essential to observe your pet's behavior and stop dressing them if you notice any signs of anxiety or stress.