Are you looking to add a touch of cuteness to your furry friend's outfit for the upcoming firework shows? Look no further! We have the perfect solution - a pet cowboy hat! This adorable accessory will not only keep your pet stylish and trendy but will also protect their eyes from the bright lights of the fireworks. So why wait? Let's give your pet the flair they deserve and make them the star of the show with our pet cowboy hat!
Why Every Pet Deserves a Fun Accessory: Introducing the Pet Cowboy Hat
Every pet deserves to have a little fun and feel special. That's why we're introducing the Pet Cowboy Hat - the perfect accessory to add some charm and flair to your furry friend's style. Whether it's for a photoshoot, a special occasion, or just for everyday cuteness, this hat is sure to make your pet stand out from the crowd. Made with high-quality materials and designed with comfort in mind, the Pet Cowboy Hat is a must-have for any pet owner looking to add a touch of whimsy to their pet's wardrobe. So why not treat your beloved pet to this adorable, fun accessory and let them show off their individuality in style?
Mini NC Hat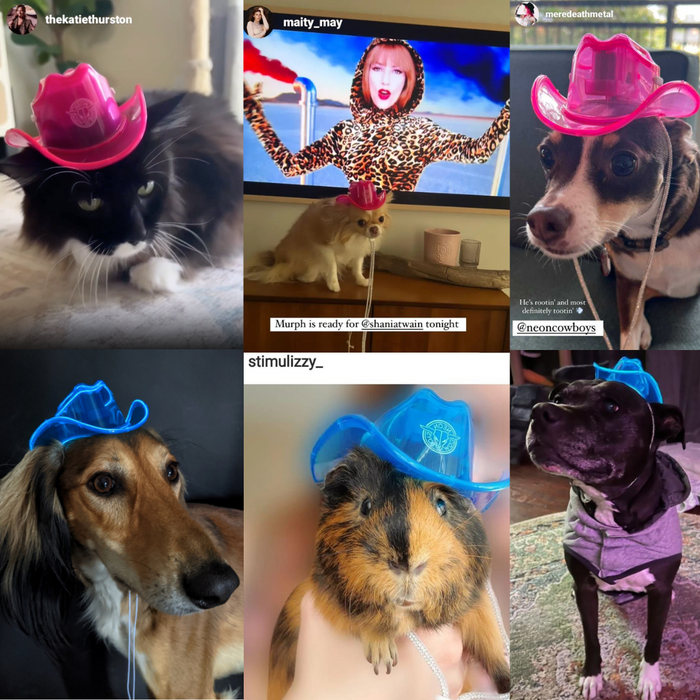 The Ultimate Guide to Choosing the Perfect Pet Cowboy Hat
Finding the perfect pet cowboy hat can be a daunting task, but with The Ultimate Guide, you can make an informed decision. From the material to the style, this comprehensive guide covers all the important factors to consider. Whether you're looking for a hat for your furry friend or for yourself, this guide provides helpful tips and recommendations. Don't settle for anything less than the best when it comes to dressing up your pet in style. Choose the perfect pet cowboy hat with confidence and make a fashion statement that will turn heads.
How to Keep Your Pet Safe and Comfortable in a Cowboy Hat during Firework Shows
Neon Cowboys® Hat
During firework shows, it is important to keep your pet safe and comfortable. One way to achieve this is by putting a cowboy hat on them. The wide brim of the hat helps to shield their eyes from the bright lights of the fireworks, preventing any potential discomfort or damage. Additionally, the hat can provide some protection from any falling debris or sparks. However, make sure that the hat fits properly and does not obstruct their vision or cause any discomfort. Always monitor your pet closely during the show and be prepared to remove the hat if they show signs of distress.
Pet Cowboy Hats: The Trendy and Adorable Accessory for Pet Owners
LED Starlight Projectors for Roller Skates
Pet Cowboy Hats are the latest accessory trend for pet owners. Not only are they trendy, but they are also incredibly adorable. These hats come in various colors and designs, allowing pet owners to find the perfect one for their furry friend. Whether it's for a special occasion or just to add some style to their everyday look, pet cowboy hats are a must-have. They not only make pets look stylish but also create a fun and playful vibe. So, if you want to stay on trend and make your pet look even more adorable, grab a pet cowboy hat today!
Unleash Your Pet's Inner Cowboy with a Stylish Cowboy Hat for Firework Displays
Out Past Midnight Boots
Give your furry friend a touch of western charm with this stylish cowboy hat that's perfect for firework displays. Made with high-quality materials, this hat is both comfortable and durable, ensuring your pet stays stylish and protected. Whether you're attending a Fourth of July celebration or a summer festival, this cowboy hat will make your pet the center of attention. With its adjustable strap, it's easy to find the perfect fit for any size pet. Bring out your pet's inner cowboy and let them ride into the sunset with this adorable cowboy hat.
Make Your Pet Stand Out in the Crowd: the Benefits of a Pet Cowboy Hat
If you want your pet to truly stand out in the crowd, consider getting them a pet cowboy hat. Not only will it make them look adorable, but it also has several benefits. Firstly, it provides protection from the sun, keeping their sensitive eyes and skin shielded from harmful UV rays. Secondly, it adds a dash of style and uniqueness to your pet's appearance, making them the center of attention wherever you go. Lastly, it can be a fun and playful accessory for special occasions or themed parties. So why not let your furry friend rock a cowboy hat and turn heads wherever you go?
Conclusion
In conclusion, by adding a pet cowboy hat to your furry friend's attire, you can bring a touch of cuteness and charm to firework shows. This small accessory can add an extra element of fun and make your pet stand out in the crowd. So why not let your pet join in on the festivities and enjoy the fireworks with their own stylish cowboy hat?
1. How do I measure my pet for a cowboy hat?
To measure your pet for a cowboy hat, use a flexible tape measure to measure the circumference of their head, just above their ears. Make sure the tape measure is snug but not too tight.
2. Can my pet wear the cowboy hat during firework displays?
Yes, the cowboy hat is designed to be worn during firework displays. It is made from fire-resistant materials and provides shade and protection for your pet's eyes and head.
3. Is the cowboy hat adjustable?
Yes, the cowboy hat comes with an adjustable strap that allows you to customize the fit for your pet. This ensures a secure and comfortable fit.
4. Is the cowboy hat suitable for all pet breeds and sizes?
Yes, the cowboy hat is available in various sizes to accommodate different pet breeds and sizes. Make sure to measure your pet's head circumference accurately to select the right size.
5. Can I machine wash the cowboy hat?
No, the cowboy hat is not machine washable. However, you can spot clean it using a damp cloth and mild soap if necessary. Make sure to let it air dry completely before putting it back on your pet.
6. Is the cowboy hat comfortable for pets to wear?
Yes, the cowboy hat is designed with your pet's comfort in mind. It has a soft inner lining and a lightweight construction, ensuring that your pet can wear it comfortably for extended periods.